Bjorn Wiinblad is a name that appears frequently in our sales, often associated with adorable ceramic figures and table articles. Wiinblad was a professionally trained artist not only in ceramics, but in drawing and painting, textiles, even set-design. He was a productive and enthusiastic artist, and was regarded as one of the wealthiest Danish artists of his time, at one point owning several houses across the country. Despite all his international success and fame, he still managed to find show his joie de vivre, or an enjoyment for life, throughout his extensive collection of work. Here is a timeline of the artist's life and career.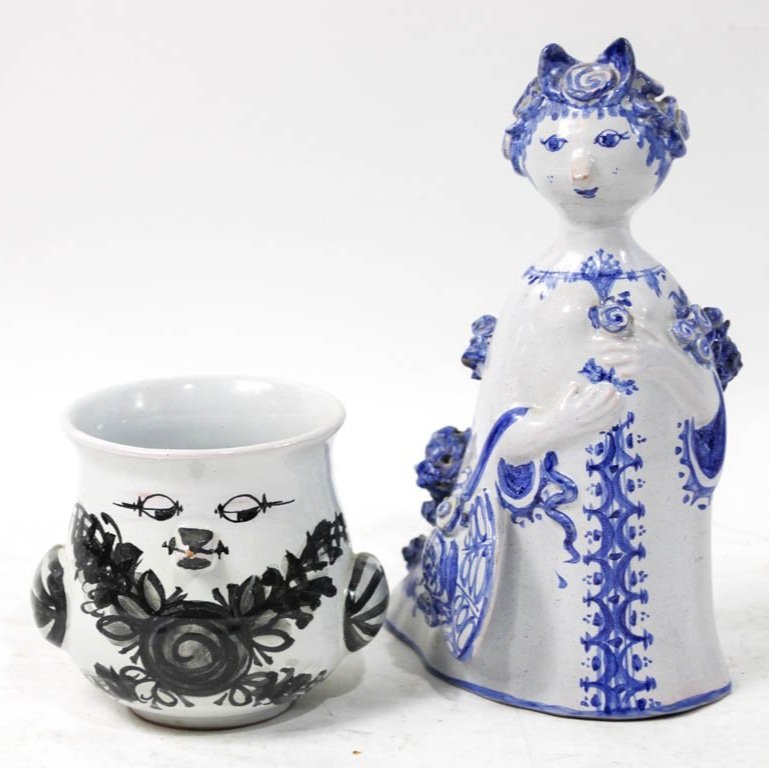 Lot 21 - Bjorn Wiinblad Glazed Ceramic Figures
This lot is available in Haylofts May sale, opening the 11th and closing May 15th. The usage of bright colors, lines, patterns, and those playful, almond-shaped eyes are all Wiinblad motifs.
---
1918 — Born in Copenhagen, Denmark.
1935 — Age 17, begins apprenticeship in typography, but quickly discovered he wanted to train to become an artist.
1940 – He was accepted into The Royal Danish Academy of Fine Arts' Graphic Programme.
1943 - Introduced to ceramics through a classmate. Learned the "cow horn technique," in which a cow horn is filled with paint and is used to create very thin lines. Would use this technique on his ceramics.
1945 — Graduated from the Academy and made his artist debut, hosting an extensive show that showcased not just his ceramics, but drawings, posters, and other works.
1948 — Wiinblad is gaining popularity quickly, and is recruited to work in the Nymolle earthenware factory. This enables him to crank out much more of his iconic ceramic pieces, like bowls, cups, candlesticks, dishes and ashtrays. This was also when he began to gain international attention.
1949 — Completes several drawing projects for the U.N. in Paris, and designs costumes and sets for theatrical performances.
1950 — Ceramics were exhibited at Bonniers, a furniture store, in New York City.
1951 — Establishes his own workshop in a town north of Copenhagen.
1960 — Appointed as artistic director for Rosenthal porcelain, further developing his international career.
1969 — A lover of classical music, Wiinblad designed and created a dinner service for Rosenthal inspired by Mozart's opera, titled the Magic Flute. It ended up being so intricate and detailed that it took the factory several years to complete.
1971— Wiinblad was commissioned by the Shah of Iran's wife to design a porcelain dinner service to celebrate the anniversary of the Persian empire. This was one of the most important and lavish events of the 20th century, filled with high-profile guests.
1988 — Made a poster for the Paralympic Games in Seoul, which ended up being his most successful poster. In his older age, he made mostly posters, which he made free of charge for charitable organizations.
1990 — Wiinblad was commissioned by an exclusive hotel in Denmark to refurbish and redoracte their entire dining room. This required many tiles, chandeliers, large porcelain figures, and some of Wiinblad's old motifs, like florals and whimsical faces.
2006 — Passed away in Denmark.
You can find lot 21, and other Bjorn Wiinblad pieces, in Haylofts May sale. Opening Wednesday May 11th at noon and closing on Sunday May 15th at 7pm. All information provided from the Bjorn Wiinblad Foundation, https://www.bjornwiinblad-denmark.com/meet-bjoern-wiinblad.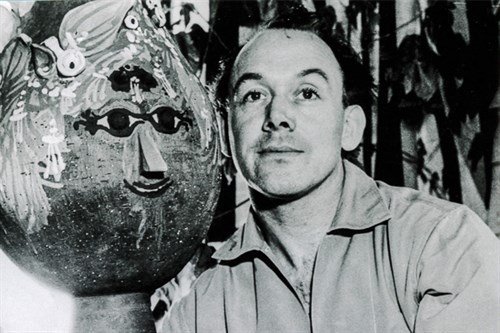 Image from the Bjorn Wiinblad Foundation